(323) 661-8494
2520 Hyperion Ave
Los Angeles CA 90027
Order Online
Download our App!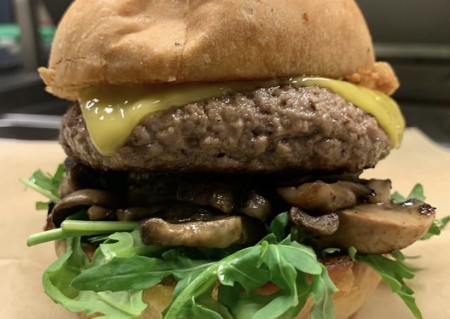 VEGAN Truffle Magic Shrooms (7 oz)
100% VEGAN Impossible Patty, mountain of sauteed mushrooms w/ truffle oil, baby arugula, Vegan cheese, Vegan homemade garlic basil mayo.
---
You may also like
See those other items from Vegan Menu.
---
Vegetarian Served on white bun, 7 oz impossible patty, mayo, lettuce, tomatoes, onions.

Brioche bun, homemade garlic basil mayo, baby arugula, homemade marinara sauce, shredded Parmesan cheese , (to go orders marinara and cheese on the side ) , baby arugula. * Can be made Vegan* Select bellow. ( sub Vegan Bun, sub Vegan Parmesan Cheese, sub Vegan homemade garlic basil mayo)

VEGETARIAN Two 2 oz impossible sliders served with caramelized onions, garlic basil mayo.